Herzebrock-Clarholz, Germany
DropWiper: A zero waste, sustainable solution for an everyday problem of everyone
HERZEBROCK-CLARHOLZ, Germany, February 16, 2021 — If the past year has taught anything to humans, it is that keeping of belongings clean is not whim, but a must. As shown by the current Covid-19 pandemic, cleanliness and disinfection can be the difference between life and death. It doesn't matter whether it is talked about the sensitive surfaces of smartphones or notebooks, the disinfection of hands after unavoidable contact with surfaces in public transport, ticket machines, ATMs, elevators or shopping carts. There is simply no viable solution for cleaning and disinfecting surfaces and hands that can be used quickly, cost-effectively and efficiently anytime, anywhere.
E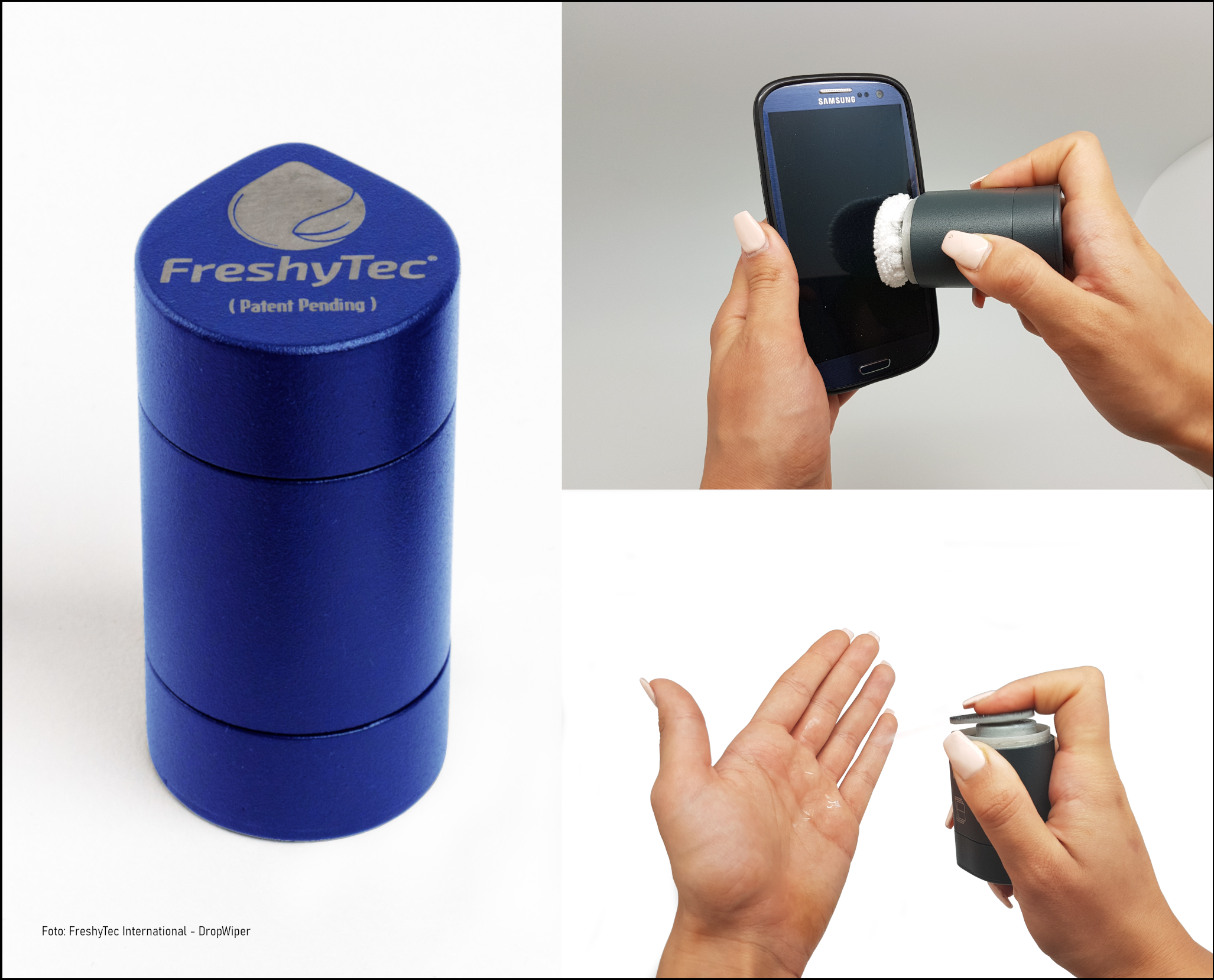 nter FreshyTec International, an enterprise founded to make people's life easier by utilizing more efficient and environmentally friendly technology. FreshyTec's first flagship product 'DropWiper' was invented with sustainability in mind. It's a completely new solution almost made of 100% recyclable aluminum for cleaning and disinfecting sensitive surfaces ranging from eyeglasses to smartphones and laptops.
What makes DropWiper so unique and attractive? The fact that it does not create any waste during use. Moreover, the product can be instantly converted into a disinfectant dispenser when needed thereby making it multi-purpose!
In today's world everyone uses high-end electronic devices with sensitive surfaces. Research has shown that the average person spends 3 hours and 15 minutes on their phones every day. But who carries the necessary utensils for streak-free cleaning of their sensitive surfaces? Nobody does.
Additionally, 875 billion disposable cleaning cloths are produced and used worldwide every year with ascending trend. The amount of disposable wipes produced in 2018 was over 1.4 million tons, accounting for a not insignificant portion of the total 400 million tons of plastic waste in 2018 alone. And where does this plastic end up? In rivers and oceans, contributing to more degradation and the growing of the "Great Pacific Garbage patch" which currently covers 1.6 million square kilometers – an area four times the size of Germany.
What's more significant is the fact that while 4 billion people in the world wear eyeglasses, there are currently about 4 billion Smartphones worldwide, a number that is expected to keep on climbing. Keeping these surfaces clean, although a must, is currently generating a lot of waste and it is not being done efficiently. With a disposable wipe, that's about 2g of waste per wipe.
This is the main reason why FreshyTec and DropWiper came to be. And with a dynamic and innovative team looking forward to continuing coming up with sustainable and environmentally friendly solutions, one could hardly think that the DropWiper initiative will be FreshyTec's last. All in all, this initiative is a welcome and at the same time lucrative investment in the common environment!

More information about FreshyTec and DropWiper are available on freshytec.com and dropwiper.com